Head-to-Head Series: Rod Laver and Ken Rosewell
In the light of the past Australian Open, I wanted to tackle the question: "Who is the greatest Australian tennis player of all time?" Sure, there are other stars of the past like Roy Emerson and John Newcombe, but they haven't had a career anywhere near the likes of Rosewall and Laver. And as long as modern-day tough guys like Nick Kyrgios and Bernard Tomic don't start raking in Majors, we won't consider them either. So, we're left with two absolute legends who dominated the sixties and the first years of the Open Era. But who will come out on top?
Background
Before diving into the details of this rivalry, I'd first like to talk about the time in which it is set. Ken Rosewall was born in 1934 and started his amateur career in 1950, still a junior. In 1957, Rosewall switched to the professional circuit. He played through the weird changeover period from 1968 to 1972 and then enjoyed the Open Era before retiring at the incredible age of 47 in 1981. Rod Laver was born in 1938 and became Australian and U.S. Junior Champion in 1957. He turned heads internationally by reaching all three Wimbledon finals in 1959. In 1962, he won all four Grand Slams and the Davis Cup with Australia and decided to switch to the professional circuit at the start of 1963. In 1976, he started slowly withdrawing from tennis, only playing a few events.
All these dates can look confusing, but what it boils down to is that Rosewall and Laver could only play each other between 1963, when Laver joined the professional circuit, and 1977, when both were semi-retired from the main tour. This period is cut in two by the beginning of the Open Era, which allowed professional players to compete with amateurs at the Grand Slams. We'll look at all these periods separately and conclude with a definite answer to the question in the introduction.
Ken Rosewall playing against Okker, 1970 Rod Laver, 1970
The amateur careers: 1950-1962
I'll try to keep this section short because our two protagonists never actually faced each other in this period.
Ken Rosewall won his first men's tournament in 1951, in Manly, Sydney. The following year, he managed to reach the quarter-final of the U.S. Championships. In 1953, he came out victorious during the Australian and French Championships but lost the quarter-final at Wimbledon. The British tournament would become his great frustration—he would never hold the golden trophy above his head. Rosewall was also quite successful in doubles. Together with his partner Lewis Hoad, he won every Grand Slam in 1956, except for the French Championships.
All this success didn't go undiscovered and Rosewall accepted a professional contract later that year. He could immediately compete with the best paid players like Pancho Gonzalez, Frank Sedgman and Pancho Segura. In 1962, Rosewall probably reached the peak of his career: he won seven of the eight most important tournaments and lost only eight matches throughout the year. This is remarkable, because these athletes played significantly more matches than modern players: organized in 'tours' 4 or more players faced of against each other, sometimes more than 50 times over the course of a couple of months. Apart from these tours, normal tournaments were also being played.
Rod Laver exploded onto the international tennis scene by reaching all three of the Wimbledon finals in 1959, although he only won the mixed doubles. He won the Australian Championships 1960 and Wimbledon 1961. While Rosewall was dominating the professional circuit in 1962, Laver won all four Grand Slam singles titles and managed to add 18 other tournaments to that total in the same year. He was still going strong at the end of the year, when he won the Davis Cup with Australia. In the next year, he would turn professional as well.
So, the most dominating professional player on the planet will soon be facing an athlete that had won everything there is to win in the amateur tennis world. This would be the start of a long and fierce rivalry. Let's get into it.
1963-1968: Before the Open Era
In just these five and a half short years, Laver and Rosewall would face each other 130 times, more than any rivalry of the Open Era (outshining Nadal and Djokovic' 53 encounters in 13 years). This is, again, due to the nature of the tour's players participated in. For example: their first thirteen matches were played in the framework of the Australian Tour, and all took place within a month of each other.
They first met at the White City Tennis Club in Sydney, on the 6th of January 1963. It was an easy 6-3 6-3 6-4 victory for Rosewall, who had the experience of his years on the professional circuit. In the whole tour, Laver only managed to win two matches, and lost the tour 2-11. Nothing hinted at the greatness that would follow. Rosewall finished the year at the No. 1 spot for the third time in a row and boasted a magnificent 38-13 record against Laver.
It would take him over a decade to obtain another winning year record against his countryman, because, in the last years before the start of the Open Era, Rod Laver would be the dominant force of men's singles tennis. In 1964, Laver won both the US Pro Championships and the Wembley Championships. The latter one, with Laver coming back from 5-3 down in the final fifth set, must have been quite the spectacle. In 1965, Laver would take undisputed control of the Nr. 1 spot. His 1967 season was probably his most dominant ever, winning 19 tournaments in total, including every professional major.
By the time the Open Era started in April of 1968, Laver had turned the tables and, in a curious twist of fate, the head-to-head record was an equal 65-65. The graph underneath shows how he has a winning record against Rosewall beginning in 1964, and slowly works his way out of the deficit he earned in his maiden year on the professional tour.
1968-1977: The Open Era
To avoid any confusion, the start of the Open Era meant that professional players were allowed to play against amateurs at the major tournaments. This shift didn't happen overnight, and until 1972, several categories of players under different associations coexisted. The formation of the ATP (Association of Tennis Professionals) put an end to this and from then on, every player could basically enter any tournament.
Rod Laver had evened the head-to-head record and would now start to capitalize on the four years of age difference between him and Rosewall. After all, at the start of the Open Era, Ken was already 34 years old. Laver carried his fitness and impeccable technique into the 1968 season, winning Wimbledon, the US Pro Championships, and the French Pro Championships to keep his No. 1 ranking. Meanwhile, Rosewall was trying to hold on for dear life. He managed to win the French Open, the first Grand Slam of the Open Era, defeating Laver on the clay, Ken's best surface. Their match record clearly shows the influence the surface makes on the performance of both players: Of the seven times they faced off in 1968, Rosewall won two, Laver won five. The two wins by Rosewall were both on clay, whereas Laver got the upper hand on the faster carpet, wood and hardcourt. Was this a sign of his age slowing Rosewall down?
1969 can compete with 1967 for the title of best season by Rod Laver ever. He won all four Grand Slams, including the French Open where he bested Rosewall in three easy sets, 6-4 6-3 6-4. His total of 18 titles in a single season is still the Open Era record, and he became one of only five men to ever win more than a hundred matches in one year (106-16). A lesser known fact is that tennis started to become really profitable for top level players in the late sixties. Laver was the first to earn more than 100.000 $ in one season. During this dominating performance that lasted an entire year, he beat Ken Rosewall 8 times in a row. The latter only managed to win 3 sets against Laver, until late October, when he finally beat him in a one-night stand match in Hamburg (2-6 7-5 8-6). This must have felt like a big relief, he could still do it!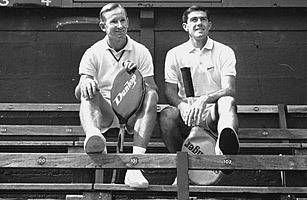 Laver and Rosewall posing together. Robert Stiggins/Express/Getty Images
The Hamburg match was quickly forgotten, as 1970 brought more of Laver's dominance over Rosewall. They met only five times on the court this year (in stark contrast with the beginning of their career) and Rod won them all. But the season wasn't as one sided as it seems. Although Laver had won an amazing number of fifteen titles, Rosewall fought through a tough US Open draw and won his sixth Grand Slam at the age of 35. John Newcombe, another Australian, had won Wimbledon, the most prestigious tournament at that time. Journalists couldn't decide who had performed the best in 1970, and several newspapers published wildly varying year-end rankings.
In 1971, the Australian rivals again played five matches, but this time Rosewall managed to win two. This was also the first year the World Tennis Championships (WCT) were organized, and both players qualified for the WCT Finals in November. As had happened so many times in the past, they met each other in the final. Ken took a 6-4 lead, but Rod fought back hard, winning the second set in an easy 1-6. What followed were two sets decided with a fantastic tiebreak, both won by Rosewall. This old champion wasn't leaving just yet!
After a hectic 4 years of discussions, 1972 finally brought an agreement between the WCT and independent professional players. Rosewall won the Australian Open for the last time in his career, and the rising star Ilie Năstase won a US Open packed with all the top players of the time. Rod Laver had some trouble with his back and knees, but managed to again make it to the WCT Finals, once more against Rosewall. This match was special for a lot of reasons. Firstly, it was the most exciting battle the world had seen between these two greats in the Open Era. The score of 4–6, 6–0, 6–3, 6–7(3–7), 7–6(7–5) in favor of Rosewall can only give a glimpse of what the experience must have been like. Secondly, it was watched by a record-breaking 23 million people in the US. And lastly, it was unfortunately the last major title Ken Rosewall would ever win.
From 1973 to 1977, Rod Laver and Ken Rosewall played only five more matches. Surprisingly, the older player won four of them, including the last three in 1976 and 1977. In a nice coincidence, both players retired from the tour in the same year, in the same way: gently. They played some tournaments, occasionally winning one. In an incredible last effort, Rosewall reached the semi-final of the Australian Open at the age of 42.
Career statistics
I prefer to look at a rivalry in the way I have done above, but sometimes numbers can reveal the truth behind the incredible stories. So, to conclude this article, let's look at the most intriguing and surprising statistics concerning the careers of Rod Laver and Ken Rosewall.
H2H matches
Total H2H wins
H2H wins in finals
H2H wins in Grand Slams
H2H wins in Pro Slams
Ken Rosewall
75
20
1
6
Rod Laver
89
36
1
5
Career titles
Total titles*
Grand Slam titles
Pro Slam titles
Ken Rosewall
133
8
15
Rod Laver
200
11
8
*these numbers include titles won in amateur careers and/or before the Open Era.
*according to journalists at the time. That's why it's possible to have joint spots, like in '64.
Records held by both Rod Laver and Ken Rosewall:
Won a calendar year Professional Grand Slam
Most consecutive seasons winning at least one title (21)
Most Grand Slam titles after turning 30 (4, also held by Roger Federer)
Records held only by Ken Rosewall:
Most combined Major titles, Pro Slams and Grand Slams (23)
Most combined Major finals (35) , semifinals (52) and quarterfinals (57)
Most Pro Slam titles (15)
Only player to win a Slam title in three different decades
25 consecutive years in the top 10
Most matches won and played in a career (1655/2282)
Records held only by Rod Laver:
Won the calendar year Grand Slam twice
Reached most consecutive Slam finals (14)
Most career titles (200)
Most seasons winning 15+ titles (6)
Most match wins in one season (147 in 1961)
Conclusion
As I crunched the numbers, I realized that there's only one statement left to make: Rod Laver is the best Australian tennis player in history. During the overview of their battle, you might have felt sympathy for the old veteran named Rosewall, who had to fight off the younger and more powerful Laver. You might have cheered when you read about his glorious comebacks in Hamburg and at the WTC Finals. But as a neutral observer, I have to declare Rod Laver the winner. He leads their H2H record in every year but two, he has won more titles in a shorter career, he was the world No. 1 for longer and he won the calendar Grand Slam twice.
I am fully aware that this article won't convince everyone. Fortunately, that's not my intention, not at all. I just want to tell stories about the great tennis players of the past, and share the details of their wonderful lives with the ever growing tennis community. I hope you enjoyed reading this piece as much as I did writing it, and I'm looking forward to continue this series.
Do you have a suggestion for our next article in the H2H series? Let us know on Facebook.